It may be worthwhile considering the combination of a holiday whilst doing some Listening. Either for a full course or just for a few days to be energised and overcome your jetlag. We have had guests who started their 'listening' as early as 6am in the morning which gave them the rest of the day off to explore, go kayaking, tramping etc.
Nelson is known for its Mediterranean climate, arts and crafts, and the music, film and theatre festivals that take place all through the year. The Abel Tasman National Park is less than one hour away and the Kahurangi and the Nelson Lakes no more than ninety minutes. All in all, Nelson is an ideal holiday destination.
There are two self-contained studios at Joya, but you can also book the B&B option. The garden studio is situated in our private gardens overlooking a pond with a small island, and a number of water features. The villa studio comprises a ground floor studio apartment with ample in and outdoor living areas and is fully set-up for in- and outdoor Listening Training.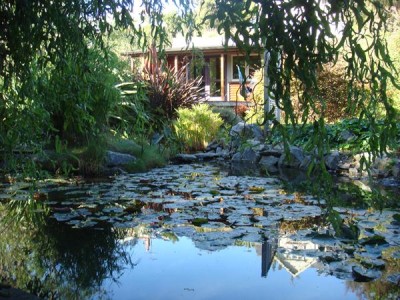 The herbs – and fruit gardens are for shared use. All water is filtered for chlorine free drinking and bathing. We offer discounted rates for those who come to do a full course of Listening Training. Depending on time of year and services offered this can amount to a 50% discount. And if you compare our 'listening' rates with those in your own country you may see advantages in that respect as well.
The summer months – December to March – are our busiest periods. For those without school-going children it would be advisable to come in Spring and Autumn, times when the weather is still beautiful and the Nelson area is a bit quieter. Nelson can be good place to spend the winter. It can be cold – sometimes even a few degrees below zero during the night – but it is still sunny with wonderful clear, crisp mornings and deep blue skies.
Over the last seven years we have been in top five on Tripadvisor's list of best accommodation places in Nelson. Here's a link to Joya's accommodation site.